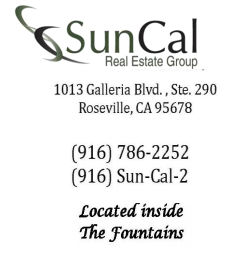 From Interstate 80, exit Hwy 65 toward Lincoln
Take the first exit Galleria Blvd.
Stay left after you exit, go under the overpass
And loop around onto Galleria Blvd.
You will pass the Galleria Mall on your right.
The Fountains Shopping Center is at the corner
of Roseville Parkway and Galleria Blvd.
You can enter from Galleria Blvd. (behind Whole Foods)
or from Reserve Dr. (behind DSW Shoes).
You can see the sign "Offices At The Fountains" on the back of our building.
The building is located between Pet Food Express and DSW Shoes
Look for the Striped awning that says "OFFICES".
SunCal Real Estate Group is located upstairs, 1st office on the right Suite 290.